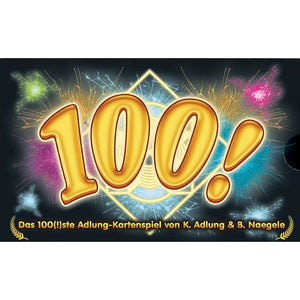 100!
You play a card to the table face down and others do the same. You pick up other's cards and hope to create your sequence. Who will be first? Can you keep up?? Can you create this or that sequence?
Number of Players: 3-5 players
Age: 9+
Play time: 10 Minutes
Difficulty level: Easy
Categories: Card game, Strategy game
Theme: Maths
In 100!, players constantly discard cards they don't need, then draw other cards to replace them. Everyone plays simultaneously and tries to order their cards in such a way that they either hold rows of ten cards or of the numbers 18 to 22 in hand. The first player to achieve this wins the round. That's not so easy, though, since in this 100th card game from Adlung-Spiele everyone plays simultaneously and chaotically, as is the case in many of the publisher's releases.