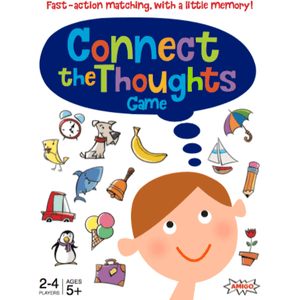 Connect the Thoughts
Rs. 1,149.00

Rs. 1,149.00
---
---
There's a big mess on the table! Who can clean up the cards the fastest, while also lining up cards that match one another?
Number of Players: 2-4 players
Age: 5+
Play time: 15 Minutes
Difficulty level: Easy
Categories: Card game, Children's game
Theme: 
In Connect the Thoughts – first released as Kuddelmuddel, which is German for "hodgepodge" – players try to put together chains of cards in order to score points. To set up the game, the players scatter the 80 cards in the deck face down on the table and place the bell within reach of all players. Everyone then simultaneously starts looking at face-down cards one by one. You can place the first card you see face up to start a row in front of you. To place another card next to this first one, whether on the left or right, the newly placed card must have at least one image in common with the card already in place.
As soon as a player has seven matching cards in a row, she rings the bell. If she goofed up, she sits out the round until another player creates a row; if she did everything correctly, she scoops up those cards and places them in a pile beside her while all other players reshuffle their cards into those that remain on the table.
The game ends whenever the last card is taken from the center of the table. Whoever has collected the most cards (i.e., rows) wins!