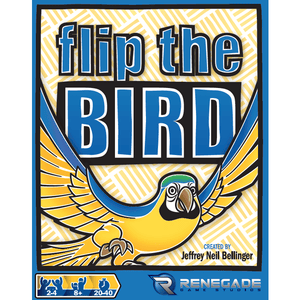 Flip the Bird
Rs. 1,699.00

Rs. 1,699.00
---
---
Number of Players: 2-4 players
Age: 8+
Play time: 20-40 Minutes
Difficulty level: Easy
Categories: Card game, Strategy game
Theme: Birds

In Flip the Bird, players gain points by being the first to play all of their cards in a single round. The first player to score 200 points wins!
In more detail, deal each player eight cards at the start of each round, with all players taking a turn at being the dealer. Two cards are flipped face up to form two different trump piles. If an Action or Condition card is flipped, then discard the card and flip another card as only cards with numbers or birds can be used to start the trump piles.
Different birds have specific numeric and color value, but things get crazy as action and condition cards can change the rules of the game. Watch out because just when you least expect it someone will flip the bird...and reset the card pile!