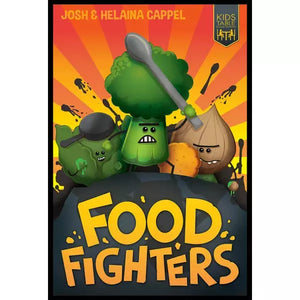 Foodfighters
Rs. 1,799.00

Rs. 1,799.00
---
---
Veggies or Meat: Who will claim victory in the war of food?
Number of Players: 2 Players

Age: 8+
Play time : 20-30 Minutes
Difficulty level: Easy
Categories: Board game, Strategy game
Foodfighters is a fun and light two-player battle game - each player controls a team of foods trying to win a food fight against the opposing team. First player to knock out three matching foods from the other team wins!
You and your opponent each control a faction of fighting foods. On your turn, you can move a Foodfighter, or roll dice to attack an opponent (that your Foodfighter is thinking about and that is in reach), or roll for Beans (cash). After that you can spend your Beans to buy awesome gear from the store or Power cards that are unique to your team. Then it's the other guy's turn. Keep going until you've knocked out three of a kind on your opponent's team, and you've won!