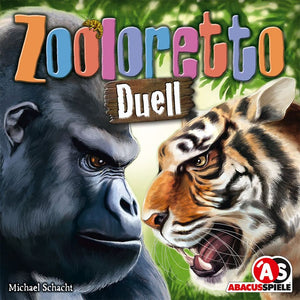 Zooloretto - Duell
Rs. 1,899.00

Rs. 1,899.00
---
---
Fill your zoo with cool animals, but you can't pick them all... 
Number of Players: 2 players
Age: 8+
Play time: 20 Minutes
Difficulty level: Medium
Categories: Card game, Strategy game
Theme: Animals
In Zooloretto Duell, two players compete to have the best zoo. Players draft cards through the mechanism used in the original Zooloretto; each turn a player adds a card to one of the piles or takes a pile. They score points for having the majority of animals in a species when a specific number of this species is in the zoos. The game includes six different species. Some of the animal cards have symbols triggering special actions when a player takes a second card of this species with the same symbol:
Heart: The player takes a baby animal of that species, if available.
Card: The player looks through the discard pile and takes a card of their choice.
Lightning bolt: The player must take a -1 point marker.
If a player collects a symbol a third time, the special action is not carried out; instead the player discards the card and takes a -1 point marker.
Some cards have food stalls, which give you money if you have the same symbol (pretzels, soft drinks, or ice cream) twice. This money can be used to steal an animal from the opponent or get rid of all -1 point markers. The first player to have all different types of stalls scores bonus points.
The end of the game is triggered after the sixth in-game scoring or when the "last round" card is revealed. After the endgame scoring, the player with the most points wins.